Dhamma Korea Vipassana Center
Dhamma Korea Vipassana center is located in small village about 30 KM east of Jeonju city, which is a famous tourist city with its beautiful traditional Hanok homes.
The distance from Dhamma Korea Vipassana center to various major locations is:
Seoul 250 km
Busan 226 km
Daejeon 110 km
Jinan 9 km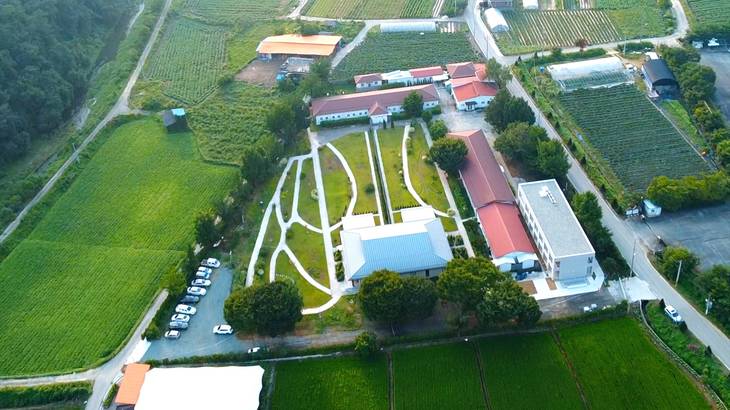 ---
In 2013, with the help of the increasing number of old students Dhamma Korea trust finally purchased an old school near Jinan town and made it the site for building the first Vipassana center in the tradition of Sayagyi U Ba Khin in Korea. The cost of buying the site was covered by interest-free and low interest loans offered by old students and thanks to their donations some had been paid back, however a debt of 162,738,738 won is still existing.
Since then the site is gradually becoming an established Meditation center and the number of courses given is increasing. The demand for joining Vipassana courses at Dhamma Korea continues to grow, and in more and more courses there are now people on the waiting list, unable to get a seat in the course they have applied for.
It seems that now the time has ripen to proceed with developing this center into an ideal meditation center, for which Dhamma Korea trust is preparing to build a new Dhamma hall, to accommodate the increasing number of students and at the same time to improve their conditions within the given environment.
- Other plans on the agenda are:
New AT rooms

New Male Residence
History
2001– The first Vipassana course in Korea took place at Dabo sa temple near Sangju.
Since then number of rented sites were used, included a site in Gyeongju in which 25 ten day courses were hosted from 2012 -2013.
2013 - The trust purchased the present site in Jinan which became the first vipassana center in Korea.
2013 - S. N. Goenka named the future centre "Dhamma Korea".

Timeline of developing the center:
- Remodeling of the site started in 2013 and courses started the same year.
- In the spring 2016 the dining halls has been extended and in the fall 2017 the residential areas were at last painted.
- The progress of work since the beginning of March 2017 was as followed:
The master plan committee made a draft plan for building a new Dhamma hall for future development of the center.
A contract with an architect was signed.
Completion of the basic plan with the help of an old student Architect.
- Plans to be achieved until Januray 2018
To complete the final blue print of the New Dhamma hall.
To get all Government construction permissions
- Farther steps to be taken during the coming winter:
Deciding a construction company for building the Dhamma hall and signing a contract with that company.
- April 2018:
Start the new Dhamma hall construction
- Fall 2018:
Complete the new Dhamma hall construction.